An air curtain is a piece or equipment that blows a controlled stream of air across an opening to create an air seal. This seal separates different environments, hot vs cold for example, while allowing for an uninterrupted flow of traffic and unobstructed vision through the opening. Helping to contain heated or air-conditioned air, provides a sizable energy savings and increased personal comfort when used in commercial or industrial facilities. Another advantage of an air curtain is that they help to keep out unwanted pests and pollutants.
Some examples of different types of buildings that can benefit from an air curtain include, but are not limited to: Airports, Cafeterias, Food Processing Plants, Grocery Stores, Hospitals, Indoor Grow Facilities and Processing Plants, Quick Serve Restaurants, Restaurants, and Schools.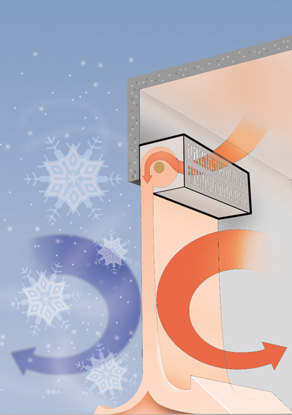 Industrial Air Curtains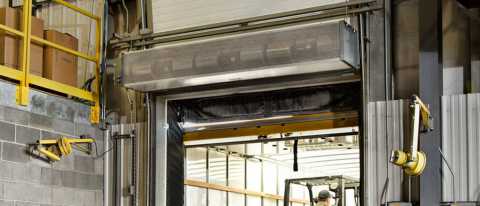 Industrial air curtains are available in either a belt-drive or direct-drive model. They are used in manufacturing plants, distribution centres and warehouses to prevent temperature fluctuations, and keep insects outdoors where they belong. Also available with heat, via indirect gas and direct gas heaters.
Commercial Air Curtains
Commercial air curtains are designed to protect the interior when the door is open. They meet the functional needs of the application by integrating into the space.
Architectural Air Curtains
Architectural air curtains are intended to both be aesthetically pleasing and improve the customer experience. These air curtains are used to enhance or replace a vestibule and not only save energy but also protect the occupant when the door is open.